Buy Organic Traffic | Cheap Organic Traffic | Increase Organic Traffic | Organic Traffic
Showing at Brunswick's Beinart Gallery, Untold Tales features large scale oil paintings through to whimsical sketches by the illustrator, writer and filmmaker, who won an Oscar in 2010 for his short film The Lost Thing, which he adapted from his book of the same name.
Last year he published Tales from the Inner City, which this week was longlisted for book of the year for older children 13 and up in the Australian Book Industry Awards, and Cicada, which is nominated for the children's picture book of the year.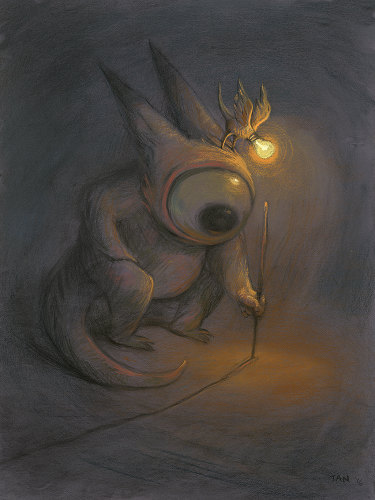 Remarkably for someone who creates such a weird and wonderful array of characters and who explores such out-there ideas in his work, Tan sees himself as "very ordinary".
"Even my imagination in its default state, it's extremely boring and ordinary. My drawing and writing is what opened it up," he says. "I don't remember stuff if I don't think about it. I think for most people, remembering is an active kinetic thing, you have to be doing it [to remember]."
Tan often explores the junction between adult experience and childhood memory.
"Cute childhood things with a slightly dark, adult feeling of complexity or even disillusionment; also a slight sense of humour."
When creating, he usually starts with something very small.
"And sometimes I know it's a good idea because it doesn't feel big, it feels a bit silly. I get an idea and I'm not sure where it comes from, a bit like a dream, but it feels somewhat absurd and the meaning is elusive so that's what gets me going."
"The act of painting and drawing is asking that question – what does this remind me of, what does it make me feel, what does it have to do with my relationship with the world or other people?"
He describes it as a game, the resolution of which happens on a piece of paper or a canvas.
The bird in the painting Empire came to him while walking up and down the streets near his home in Brunswick West at night, with his then tiny baby.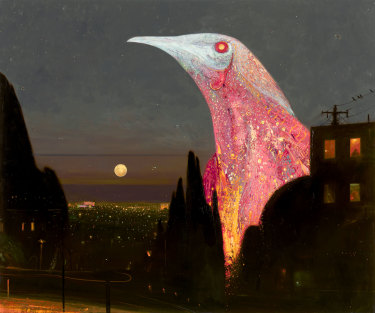 During these walks, he became conscious of the birdlife around him, and particularly the wattlebirds, which he recognised from growing up in Western Australia.
"I just kept having this image of this huge, luminous wattlebird, like the ancestral spirit of wattlebirds looming over the landscape, almost protecting the people."
"We're so dependent on nature for eating and water and everything that we do, we think that it's all human-made stuff but at its basis, nature looks after us, even in a dense city."
Tan's works speaks to adults and kids equally, which is more accidental than deliberate. He wonders if that's because it often bleeds into the territory of dreams.
"In my own creative work and imagination, my childhood is so rich with material, I'm still mining that stuff – I haven't even got to adolescence yet," he says.
"The main difference is I still don't understand much about the world but I think I do. I like … the childhood stuff because it reminds me, you've got a few theories and you've learnt some stuff but at the end of the day, it's all a big mystery."
Untold Tales is at Beinart Gallery in Brunswick until March 31.
Kerrie is a senior entertainment writer at The Age and The Sydney Morning Herald
Most Viewed in Entertainment
Loading
Buy Website Traffic | Cheap Website Traffic | Increase Website Traffic | Website Traffic
Source link