Buy Website Traffic | Increase Website Traffic | SEO Backlinks | Alexa Ranking
Nicholas Kamm / AFP / Getty Images
WASHINGTON — Senator Tim Scott, a black Republican from South Carolina, said it's unrealistic to think President Trump would have an immediate "epiphany" regarding race after their meeting the day before.
Scott met with Trump on Wednesday to discuss the topic, especially after Trump defended white supremacists who marched on Charlottesville. On Thursday, on board Air Force one while returning from touring Hurricane Irma damage in Florida, Trump reinforced his previous controversial comments defending white supremacists by pointing to a sometimes violent group that opposes them, Antifa.
"At the end of the day, I voiced my concerns about the thought that somehow three centuries of American history of raping and murdering people based on their color is somehow equal to what Antifa is doing today," Scott told BuzzFeed News on Thursday after being told of Trump's comments.
When asked if he found it frustrating to see that Trump might not have gotten the message, Scott said, "No, I mean, listen. He is who he has been and I didn't go in there to change who he was, I wanted to inform and educate a different perspective. I think we accomplished that. To assume that immediately thereafter he's going to have an epiphany is just unrealistic."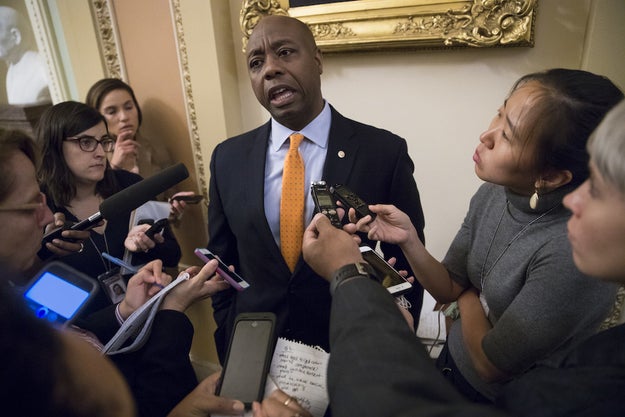 Sen. Tim Scott before meeting with Trump on Wednesday
J. Scott Applewhite / AP
Scott has previously said Trump had "compromised" his moral authority through his handling of the race-fueled Charlottesville riots.
"They talked about [Charlottesville] pretty in-depth," Press Secretary Sarah Huckabee Sanders said Wednesday of the meeting, "but the focus was primarily on solutions moving forward, and that was what both people came to the meeting wanting to discuss — is what we can do to bring people together, not talk about divisions within the country."
Trump, on Thursday, said he and Scott "had a great talk yesterday. I think especially in light of the advent of Antifa, if you look at what's going on there. You have some pretty bad dudes on the other side also and essentially that's what I said. Now because of what's happened since then with Antifa. When you look at really what's happened since Charlottesville, a lot of people are saying and people have actually written, 'Gee, Trump may have a point.'
Trump added, "I said there's some very bad people on the other side also. But we had a great conversation. And he has legislation, which I actually like very much, the concept of which I support, to get people into certain areas and building and constructing and putting people to work. I told him yesterday that's a concept I can support very easily."
Scott's office later released the following statement:
In yesterday's meeting, Senator Scott was very, very clear about the brutal history surrounding the white supremacist movement and their horrific treatment of black and other minority groups. Rome wasn't built in a day, and to expect the President's rhetoric to change based on one 30 minute conversation is unrealistic. Antifa is bad and should be condemned, yes, but the KKK and white supremacist groups have been killing and tormenting black Americans for centuries. There is no realistic comparison. Period.
At the same time, it was encouraging to hear the President commit, as he did yesterday in their meeting, to diversifying his staff, as well as make clear his support for the Senator's Investing in Opportunity Act. These are concrete steps that will help our poor and minority communities and ensure their voices are heard.
No matter what is said or not said, the Senator will continue his efforts to unite our nation and move forward as one American Family.
Buy Website Traffic | Increase Website Traffic | SEO Backlinks | Alexa Ranking
Source link